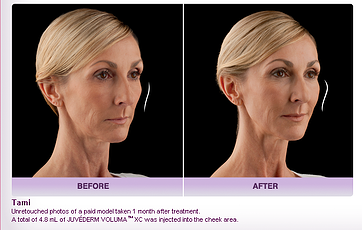 We wanted to share with you a real experience from a patient who tried Voluma for the first time.
Is Voluma Right For Me?
So... the stars admit to doing it, but is Voluma right for me? When I first heard about Voluma, a new facial filler that produces results that can last up to two years, I was intrigued, as I had reached a point where I felt it was time to take a more aggressive step toward slowing down the aging process. I also had a lot of questions… Would the treatment make my face look puffy? What are the side effects? Does is it hurt?
I've always had a round face, and in my teens and twenties I was an expert at using makeup to "add contour." Then I hit my mid-40s, and suddenly, check bones. But not in a good way.
My face was thinning, and I did not like the hollows I was seeing. The loss of volume in my cheek area was making me look drawn and angular, and I realized that the curves I had worked to correct were actually what gave my face a more youthful appearance.
I had heard about facial fillers, but did not like the idea of having to go back after six months for a touch up. Psychologically it was a big step for me to try any kind of treatment, and if I was going to commit, I wanted the results to last. Voluma seemed to offer what I was looking for.
No It Does Not Make Your Face Look Fat
Voluma, I learned, would likely cause temporary swelling after treatment, as well as some tenderness and possible slight bruising at the injection site. As far as my concerns of looking overfilled, I was reassured that Voluma produces natural-looking results, and that they take a less is more" approach to treatment. I was sold.
At my treatment, I was nervous, but gradually relaxed when I realized that each Voluma injection felt no worse than a slight pinch. The entire treatment was completed in less than 30 minutes.
Results
When they handed me a mirror, I immediately saw a change. The curves have been restored to my cheeks, making my face looked softer, and with the deep hollows gone, my expression looks less tired. It is a subtle – but definite – difference.
I did have a bit of swelling, which went away after two days, and some very faint bruising in a few spots that was easily covered with foundation. I can honestly say I love my results. I feel like I've had a much needed boost, and superficial or not, it has made me feel more confident. Best of all, I am thrilled to know I can enjoy the results of my Voluma treatment for up to 24 months.