We spend time and money trying to make the skin on our face look younger, but we often neglect the skin on our hands. Unfortunately, that's what tends to give away our age.

Like rings in a tree trunk - lines, creases, dark spots, and bulging veins on the back of your hands are the sneaky little tattletales that give away your age!

Dermatoligist Norma Narnins says that "hands are frequently exposed to sunlight and all it photoaging effects. While we would never consider exposing our face to sun without sun block , we often don't remember to treat our hands the same way."

In order to keep your hands looking at youthful as you feel, it is important to use a sunblock with with SPF15 or higher everyday, even if you think your hands will not be getting that much sun exposure. That means in the winter time too, ladies! Try and choose a moisturizer that contains SPF that way you are getting your daily sun protectant and your moisturizing all from one product.
Newbeauty.com recently shared a video where they interviewed Coral Gables, FL, dermatologist Flor Mayoral, MD, to find out how to get our hands back in tip-top shape with the use of treatments such as radio-frequency, injectables and topical products. Watch the video to see what she says.


We do all of the procedures mentioned in the above video and more. Depending on the condition of your hands there are several popular treatment options available.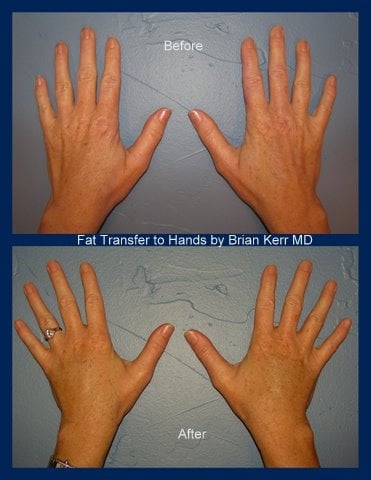 At Silk Touch Med Spa, we individualize each treatment using a combination of approaches to achieve the most observable results.
Microdermabrasion, chemical peels and (IPL) intense pulsed light therapy can be used seperatley or in combination with each other to remove sun spots, sun damage, and brown pigment.
Dr. Brian Kerr can fill also fill in the hands by using either the patients own fat (fat transfers) or dermal fillers like Juvederm and Radiesse and Artefill.
You can be on your way to youthful hands again by contacting us for a FREE consultation. It's that easy!