Keeping "perfect" skin sometimes seems impossible during pregnancy. Why? Because of the unavoidable hormonal changes that occur. Pregnancy hormones bring about huge changes to almost every part of a woman's body, from skin and hair right through to teeth and gums. Since skin is the outermost layer of the body, even a slight change from the normal is evident.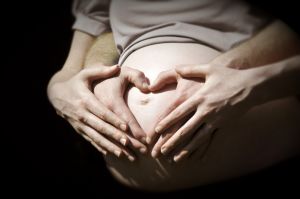 Skin care for pregnant women is really essential. To keep their pregnant bodies in top condition, mommies-to-be need to adjust their daily skincare and pampering routine to ensure that they feel and look great, right up to their due date and beyond.
The first thing to do when you find you are pregnant is to check the products that you would normally use. You may find that some products are unsuitable for pregnant skin. (Click the link for a list of ingrediants to avoid)

Cleansing
Soap removes natural oils from the skin, so try using a moisturizing body wash instead. This will maintain the essential oils in pregnant skin and promote a healthy glow, as well as keep your skin from drying out.

Moisturizing and Sun Protection
The most important addition you should make to your skin-care routine during pregnancy (and beyond) is a moisturizer with at least SPF 15, and with broad spectrum protection (that works against both UVA and UVB rays). This is an important for women always do, even past pregnancy. If you can find makeup with SPF in it as well, even better.

Acne and Oil
If your skin is oily and/or acne prone, you'll probably experience your worst breakouts during the first trimester of pregnancy. The safest way to treat these breakouts is with a product that contains glycolic acid, alpha hydroxy acid, topical erythromycin (prescription only), or witch hazel. Generally, most dermatologists don't recommend the use of topical retinoids (such as Retin-A or Differin) or salicylic acid — check product labels for ingredients before choosing or talk to your dermatologist if you have any questions.

Skin Problems

Many, many women experience skin-care problems during pregnancy that occur whether you have implemented a daily routine or not. Babycenter.com has compiled a list of the 5 most common pregnancy skin-care problems and how to cure them. We highly recommend you check it out.
Silk Touch Med Spa also offers a wide variety of services that can help you feel more confident, or simply help you relax during your pregnancy. Check out some of our skin care and spa treatments we have available. In addition we also have many services to look into post-pregnacny such as vercoise vein treatments, IPL, smart-lipo body shaping and much more that can help you get back to your pre-pregnancy body. We recently published a blog: Regain Your Pre-Baby Body - follow the link to learn more.
Take our skin-care quiz to see what treatments may be right for you and don't forget to set up a FREE consulation at Silk Touch. We would love to answer any questions you have on skin-care and help find which treatments are right for you.
Keep up with us on Facebook and Twitter for the latest news, specials, and prizes!