When making changes to your appearance or dealing with a facial concern – it is a very serious and personal choice. In addition to feeling comfortable with the physician you choose, the treatment you choose is just as important. How do you decide between getting surgery or facial fillers?
There are a handful of factors that go in to deciding what kind of treatment you'll need. There is a time and a place for injectables, as there is a time and place for plastic surgery. It is our opinion that Plastic Surgery shouldn't be considered as first response to sagging skin and wrinkles. Here at Silk Touch Medspa we highly recommend doing facial fillers first over plastic surgery because volume is what is most often needed. Once the skin is volumized, many of the patient's concerns are eliminated. At Silk Touch Medspa, we have several treatments to choose from – Botox, Juvederm, Radiesse, and the new long-lasting filler Artefill. We have something for everyone. We have fillers that go deeper, last longer, aren't as superficial and come in a variety of consistencies and strengths.
But, while we suggest fillers over surgery we understand that in some cases fillers just aren't the answer. Face fillers can treat certain lines and wrinkles, but are not a plausible solution for everything. For example, if someone has a tremendous amount of excess skin in the neck area, they're going to need a neck lift. Also, if your upper eye lids are drooping excessively, an eye lift may be your best choice.
Artefill is a new filler that does amazing work and can last up to 5 years! Look at these results for Dr.Kerr: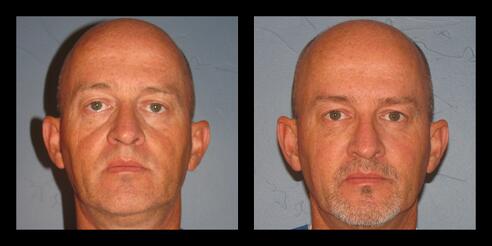 If you are curious to whether face fillers are the right option for you, our staff would be more than happy to sit down with you to discuss various options and treatments. Just visit the contact link below or call us at 208-939-3110.