When is the right time to start using Botox? Botox is one of our most popular nonsurgical treatments that smoothes facial lines and wrinkles to reduce the signs of aging. For those hoping to stop wrinkles before they start, preventative Botox is an increasingly popular treatment to consider.
Botox is an injection that relaxes muscles just enough to smooth wrinkles that appear on the forehead and at the corners of the eyes ("crows feet"). Other nonsurgical approaches like wearing sunscreen and using anti-aging skin care products can help slow the hands of time at a topical level, while Botox is a deeper, more noticeable solution with natural looking results.
Some are wary of preventative Botox because their lines are minimal or nonexistent, but beginning treatments at an earlier age can relax muscles and prevent lines from deepening. Take a look at this recent study below.
A STUDY IN WRINKLE PREVENTION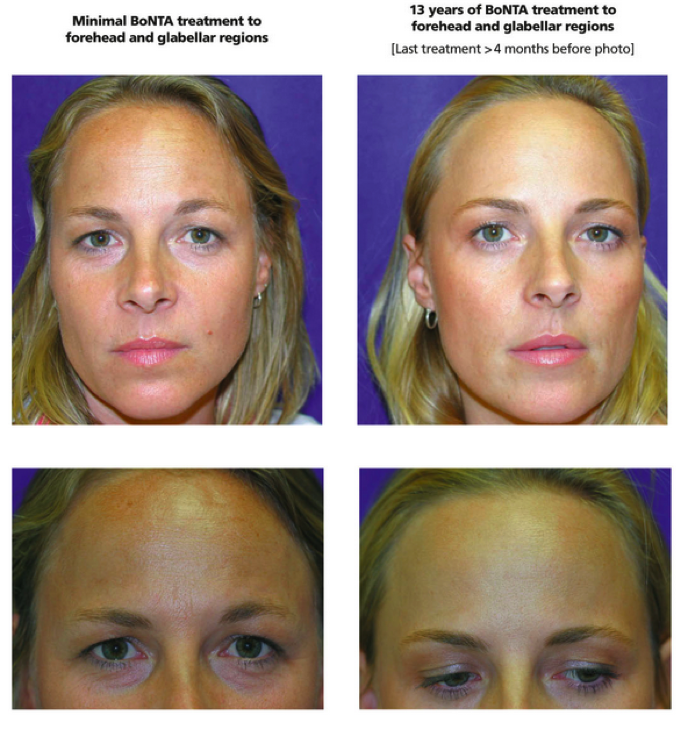 The fore-mentioned study followed identical twin sisters for 13 years. One twin received BOTOX in the forehead, and in the region above the nose and between the eyebrows (approximately 2 to 3 times each year over the past 13 years) and in the crow's feet (twice in past 2 years). Her twin received BOTOX only twice (in the forehead, and in the region above the nose and between the eyebrows, 3 and 7 years ago).
RESULTS
Imprinted forehead lines and lines between the eyebrows were not evident in the regularly treated twin but were evident in the minimally treated twin. Crow's feet were less noticeable when the regularly treated twin smiled (even at 7 months after treatment) than when the minimally treated twin smiled. Untreated facial areas (eg, nasolabial folds) showed comparable aging in both twins. Neither twin experienced adverse effects.
CONCLUSIONS
"Long-term treatment with BOTOX can prevent the development of imprinted facial lines that are visible at rest. BOTOX treatment can also reduce crow's feet. Treatment is well tolerated, with no adverse events reported during 13 years of regular treatment in this study."1
How much Botox do you need for "preventative reasons?"
If you're getting Botox treatments for preventative reasons it's more individual dependent. Botox works by blocking muscle movement. To relax someone's muscle takes the same amount at age 20 or age 50. Dosages would not change with age; it would just be more dependent on what worked best for each individual. A free consultation will give you a much clearer idea of the amount of units that will be right for you.