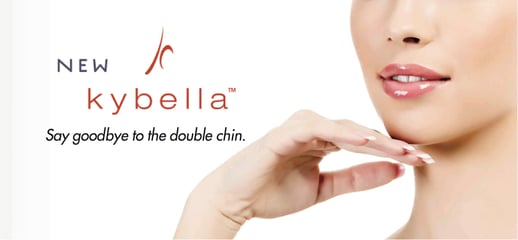 Lately there has been a lot of buzz around one of the latest injectable treatments from the makers of Botox, Kybella. And it's easy to see why. It's an amazing new treatment that gets some pretty wow worthy results.
Kybella is the first and only FDA approved injectable treatment that gets rid of under-the-chin fat permanently with out surgery! The treatment takes about 15 minutes and while there is some slight tenderness and swelling, the downtime is very minimal. We have been using Kybella in our practice for over a year now.. and we can't get enough of this product. Not only can you use Kybella under your chin and in your jowls - but you can also use it on other areas of the body such as bra fat.
Are you a candidate for a Kybella double chin treatment? While we want to evaluate you in person first before we can say 100%... you can use this easy test to get a good idea!
Kybella Candidate Test:
1. Pinch the skin under your chin, then pinch the skin on your wrist - if it feels the same, then you a probably not a candidate.
3.Pinch the skin under your chin, then pinch the skin on your flanks (love handles). If it feels the same, then you are probably a candidate!
This month we are having a special on Kybella - Buy 1 Treatment, Get Your 2nd at 50% OFF. Claim this offer here.
Check out some of our favorite Kybella before and after pictures below.