As the winter months continue on, it is common for people to experience dry skin. With a combination of cold air and the lack of moisture outside, you may feel like your skin doesn't stand a chance. Good news for you is we have just the answer.
Epionce has four great products for combating your dryness that will keep your skin hydrated and glowing all winter long.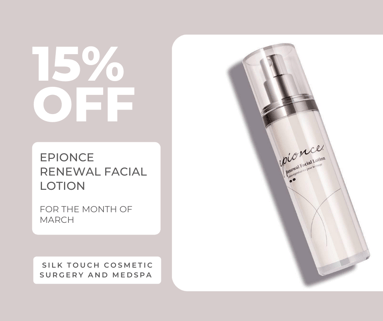 1. Medical Barrier Cream:
Epionce's Medical Barrier Cream is perfect for sensitive skin types. This cream will give any red or irritated skin the hydration it needs without causing irritation. With key botanical ingredients, such as white water lily extract and meadowfoam extract, you can say goodbye to dry skin and hello to visibly improved healthy skin.
2. Intensive Nourishing Cream:
The Intensive Nourishing Cream is an ultra-rich cream that reduces the appearance of fine lines and wrinkles. Named "Best Rich Moisturizer for Dry Skin" in Women's Health Magazine Best of Skincare Awards 2020, this anti-aging cream has advanced technology to give you radiant looking skin while providing superior moisture. Apply up to three times a day for noticeably improved hydrated skin.
3. Renewal Facial Lotion:
Perfect for normal to combination skin types, the Renewal Facial Lotion can help reverse signs of skin aging by reducing fine lines and wrinkles. The lotion's key natural ingredients are expertly formulated to improve clarity and radiance for an overall healthy glow. This product can be applied three times daily for smoother and tighter skin.
4. Milky Lotion Cleanser:
Epionce's Milky Lotion Cleanser is perfect for both dry and sensitive skin types. This silky smooth cleanser rids the skin of unwanted dirt, makeup, and pollutants while leaving the skin soft and moisturized. If you are looking for a cleanser that calms the skin while combating redness and dry texture then this is the product for you!
Are you ready to give your skin the love it needs this winter? Stop by our practice on Eagle Road to purchase your Epionce products and for a limited time get 15% off the Epionce Renewal Face Lotion.
Not sure what products are right for you? Click here to book a VISIA skin analysis with one of our aestheticians and have a custom product regimen created for you.