Am I a Good Candidate for Neograft Hair Transplant?
If you are looking for a solution to hair loss, a receding hair line, hair thinning or male or female patterned baldness - then NeoGraft is your answer.
NeoGraft is the latest technology in hair transplantation. We are the first to bring this exciting new procedure to Idaho, allowing more men and women to take advantage of the benefits of no-scalpel/no-stitch FUE hair transplants.
NeoGraft's advanced technology allows patients to achieve natural looking results with no linear scar, minimal downtime and a shorter recovery period to achieve a discrete solution to hair loss.
NeoGraft is a game changer when it comes to hair restoration technology. But, not everyone is a candidate.
Who is a good candidate for NeoGraft?
Candidates for NeoGraft hair transplant are those individuals in good health with moderate hair loss and sufficient donor hair on the back of the scalp to transplant into the balding areas. Those with more donor hair, greater hair thickness and fullness can typically expect fuller results. It is also important that you have realistic cosmetic goals. Hair transplantation can achieve very good, natural results but cannot restore your hair to the density you had as a teenager. During your consultation, our NeoGraft coordinator Stephanie and Dr.Kerr will assess the amount of coverage needed to give you the appearance you desire.
NeoGraft patients must have a sufficient amount of hair left in the donor site to be considered candidates.
Example of a sufficient donor area (good candidate):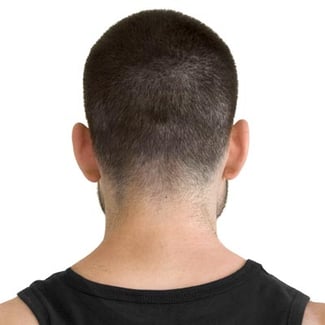 This is a great example of a sufficient donor site. There is enough hair in the back to take and transplant to balding areas, without impacting the cosmetic appearance of the back of the head. The hair is thick, which would make him an ideal candidate. The thicker the hair, the less hair grafts it takes to cover the balding areas. A patient does not have to have thick hair to qualify as a candidate, however those with thin hair will require more transplanted grafts to to achieve optimal results.
Example of an insufficient donor area (NOT A CANDIDATE):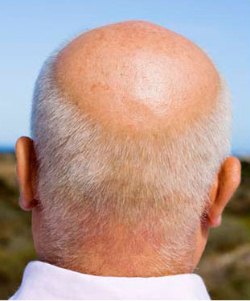 This is an example of someone who is not a candidate for Neograft. There is not enough hair left in the donor site to transplant to the balding areas. The hair is also very thin, which would require a higher number of hair grafts to be transplanted to fully cover each area.