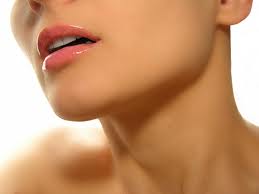 Sometimes we get so caught up focusing on the wrinkles on our face, that we forget that the signs of aging might be showing on our neck and décolleté area, too. Luckily there are ways to maintain a youthful looking neck – through prevention and damage reversal treatments.
Here are the proven ways to treat or get rid of discoloration, texture problems, weight gain, loose skin and wrinkles that evolve into the much dreaded "turkey neck".
Neck Firming Creams

Creams and serums can provide an anti-aging arsenal that can help prevent signs on aging, and sometimes can help in reversing wrinkles and skin laxity. While there are a lot of products out there that claim to tighten and tone the neck, our favorite product is by Revision – Nectifirm. Nectifirm is the best product for the neck. Patients notice an immediate difference in tone, texture and firmness. It's one of our best sellers and I wouldn't go a day without it!
Skin Tightening
While creams can help with the signs and prevention of aging, sometimes in-office alternatives may be necessary. When it comes to skin tightening, you don't have to go under the knife to see results. New technology such as the non-invasive VENUS FREEZE SKIN TIGHTENING can provide dramatic results with zero downtime. Venus Freeze uses radio frequency technology to firm the skin and reduce the appearance of wrinkles.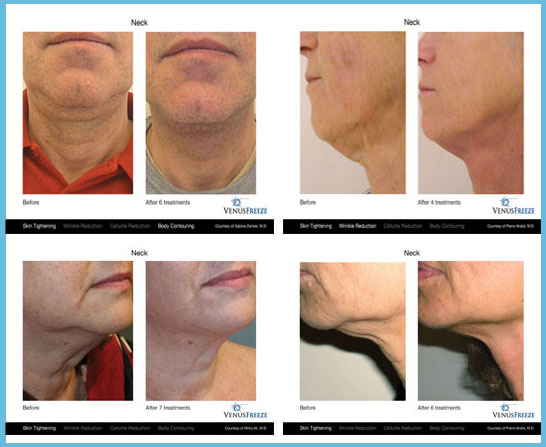 Re-Texture
If you are looking to improve the texture on your neck and décolleté area, you will see the best results from fractional laser treatments such as the CO2 Dot Therapy. Laser Skin Resurfacing re-texturizes the skin, leaving a new and improved appearance. It also helps with skin laxity, sun-damage and fine lines and wrinkles. This treatment is one of the most popular anti-aging treatments here at Silk Touch. While the downtime can last from 1-2 weeks, the results are phenomenal and you can see major results in just one treatment.
Non-invasive Slimming
Extra, unwanted fat on our jawline and neck can add years to our appearance. If you are looking to slim your neck – there is no better treatment then Smartlipo. This quick in-office procedure is minimally invasive with a short amount of downtime. Most people are back to work within a day or two. Smartlipo is the only way to take away fat in just 1 office visit. Dr. Kerr specializes in Smartlipo for necks. Below is a recent patient of ours.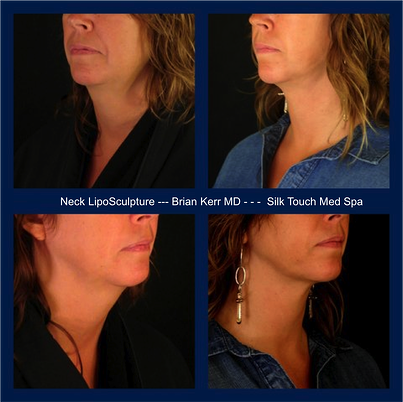 Click To Save $500 On Smartlipo
Prevention
Creams and serums can help ward of signs of anti-aging. It's important not to forget our neck in our daily skin care routines. Don't forget to protect your neck from the sun too, especially when you driving or going to be outside for long periods of time.
Exercise can help keep the neck youthful as well. Incorporate yoga stretches that tone the muscle and tighten skin.