Thighs can be one of the toughest areas to slim down, especially after losing a substantial amount of weight. Like many lipo cases, this patient came to us wanting to slim her inner and outer thighs. She was tired of the rubbing in between the inner thighs – and was ready for her pants to fit perfectly on both her waist and thighs. Living with a pear shape since a young age, she was ready for a change.
Treatment: Smartlipo + Vaser Liposuction for Thighs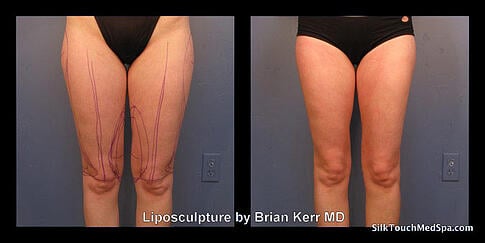 Dr. Kerr used liposculpture to reshape the inner and outer thighs. This unique approach smooths out legs by removing fat – giving an over all shapelier, firmer and younger looking legs. This non-invasive liposuction can also help diminish the appearance of cellulite. When both inner and outer thighs are treated, Dr. Kerr can address the fullness under the buttocks to create not only attractive legs, but also improving the look of the buttocks.
Liposuction for the inner or outer thighs is a quick in-office procedure, with minimal downtime. Most patients return to normal activity within 3 days.
The end result? Less jiggle, better-fitting clothes, and firmer thighs.
>> See More Before and After Pictures