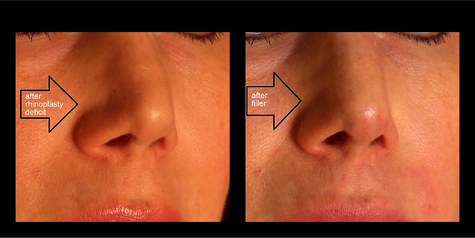 Patient Testimonial:
After a rhinoplasty surgery with a premier plastic surgeon in California 10 years ago, I had to have a revision due to complications of tissue atrophy on the bridge of my nose. A second surgery a year later helped but didn't completely solve the problem, so I just lived with a noticeable dent on the bridge of my nose. A few months ago, I happened across a Before/After photo on Silk Touch Med Spa's website of a nose job revision using liquid fillers. I hadn't even known that was possible!
At a single appointment and at a fraction of the cost, Dr. Kerr used Voluma (one of a few fillers available for this procedure, but the best option for me) to sculpt the deficit on the bridge of my nose. I could not be any happier with my results; it's perfect. Thank you Dr. Kerr and staff! I only wish I had known about this years ago!
About The Treatment:
Traditional Rhinoplasty can be quite expensive. On top of that, it might involve numerous revisions and it requires a long recovery period – during which your face is screaming to the world "I just had a nose job!!!"
Dermal fillers have changed the cosmetic surgery playing field. Often you can correct a nose for less in no time by just injecting temporary fillers. If you want something more permanent, Artefill is the only long lasting filler-- lasting 5 years or more. Forget the anesthesia, the packing and the sutures – instead the only tools needed are a syringe and dermal fillers. A lot less gruesome than anything you see on Nip-Tuck.