Have you tried everything you can to lose weight – but just can't seem to lose that oh so pesky "double chin" or extra neck waddle? If so, your not alone. Many men and women face the challenge of wanting to slim down their face and lose that droopy neck, but just can't or don't know how. Some people hide it with scarves and turtle necks (which you wouldn't want to wear year round) , while others go with traditional liposuction which can takes weeks of down time to recover. Are you tired of hiding it, but not willing to pay the cost (both financially and time wise) of traditional liposuction?
By using technologies such as SmartLipo and VASER, we can help you can say goodbye to neck weight forever and hello to new confidence!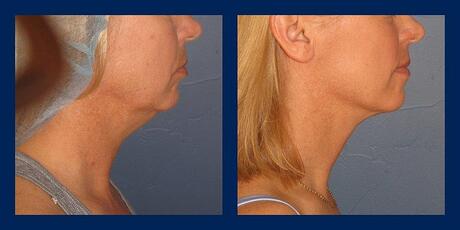 The face and neck are usually the first features we notice when we meet someone new, so even the littlest improvements in this area can create a dramatic change. A firm, trim neck gives the face a more youthful look and sometimes just having this procedure done provides an incentive and the confidence you need to make healthier lifestyle choices, therefore benefiting you even more in the long run.

At Silk Touch Med Spa, we use the latest technologies to bring you the best results with the least recovery time. VASER, combined with SmartLipo liposuction allows Dr.Brian Kerr to work with such precision that he can shape delicate areas, such as the chin and neck. Using this new technology allows the nerves and blood vessels to go largely undisturbed, which causes patients to report minimal pain and bruising – less recovery time!

The results of this procedure are fantastic – take a look for yourself!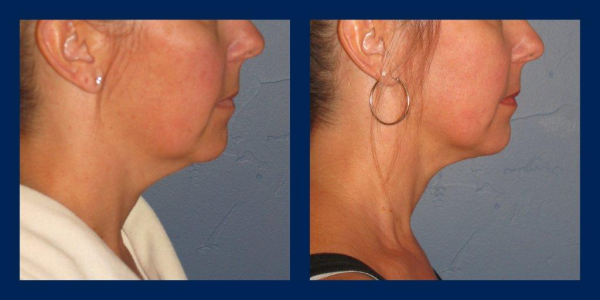 The most common concerns with this procedure have to do with the recovery time. "Will I have to have my face wrapped up for weeks?" "How long do I have to take off work?" "Will I need to get someone to watch my kids?"

Recovery time for this procedure is minimal, but is different for each patient. Patients find themselves back to work 1-3 days after the procedure. Usually, an elastic compression headband is worn during the first 18 to 36 hours after surgery. After that, the headband is used at night while you sleep to assist in the healing process. In the early years of liposuction, surgeons required patients to wear compression garments from 2-6 weeks! This is just one of the many benefits of using SmartLipo and VASER technologies.
Other benefits include:
Gently targets trouble spots where fat collects and skin becomes lax

Minimally invasive alternative to surgery

No general anesthetic needed
Visit our testimonials page to read stories on past patients success.
If you are interested in or have questions on Neck Liposuction, schedule a free consultation today and we can work to asnwer any questions you have.