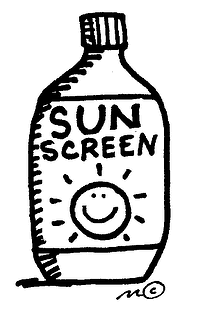 One in five Americans will develop skin cancer in the course of a lifetime, and over the past 31 years more people have had skin cancer than all other cancers combined. Because of this, it is absolutely essential that we wear sunscreen every single day - even in the winter.
Here is a guide for you to reference when ever you have a question about sunscreen. From how much you should use and when to tips for telling when your sunscreen is past it's shelf life.
What sunscreen should I use?
The American Academy of Dermatology recommends everyone use sunscreen that offers the following:

Broad-spectrum protection (protects against UVA and UVB rays).

Sun Protection Factor (SPF) 30 or greater. Water resistant.
A sunscreen that offers the above helps to protect your skin from sunburn, early skin aging, and skin cancer. However, sunscreen alone cannot fully protect you. Dermatologists also recommend that you seek shade when your shadow is shorter than you are and protect your skin by wearing long sleeves, pants, a wide-brimmed hat, and sunglasses whenever possible.
When should I use sunscreen?
Every day. The sun emits harmful ultraviolet (UV) rays year round.

Even on cloudy days, harmful UV rays can penetrate your skin.

Snow and sand increase the need for sunscreen.
On a cloudy day, up to 80 percent of the sun's UV rays can pass through the clouds.
Snow reflects 80 percent of the sun's rays, and sand reflects 25 percent of the sun's rays.
How much sunscreen should I use, and how often should I apply it?
Use enough sunscreen to generously coat all skin that will be not be covered by clothing. Ask yourself, "Will my face, ears, arms, or hands be covered by clothing?" If not, apply sunscreen.
To be sure you use enough, follow this guideline:
One ounce, enough to fill a shot glass, is considered the amount needed to cover the exposed areas of the body. Adjust the amount of sunscreen applied depending on your body size.

Most people only apply 25-50 percent of the recommended amount of sunscreen.3

Apply the sunscreen to dry skin 15 minutes BEFORE going outdoors.

Skin cancer also can form on the lips. To protect your lips, apply a lip balm or lipstick that contains sunscreen with an SPF of 30 or higher.

Re-apply sunscreen approximately every two hours or after swimming or sweating heavily according to the directions on the bottle.
The FDA released sunscreen guidelines. How will these affect my sunscreen?
By the end of summer, you'll begin to see several changes to sunscreen labels. These changes, which are required by the U.S. Food and Drug Administration (FDA), will provide you with more information about what type of UV protection a sunscreen offers, and what a sunscreen can do.
On the label, you'll see whether the sunscreen:
Protects against UVB and/or UVA rays.
Reduces the risk of skin cancer and early skin aging in addition to helping prevent sunburn, or just protects against sunburn alone.
In order to reduce the risk of skin cancer and early skin aging, the sunscreen must offer two things: broad-spectrum protection (protects against UVA and UVB rays) and an SPF of 15 or higher. Without both, the sunscreen only helps prevent sunburn.

Is water-resistant up to 40 or 80 minutes
Sunscreen manufacturers will no longer claim that a sunscreen is "waterproof" or "sweat proof." This is not possible because all sunscreen eventually washes off.
Can I use the sunscreen I bought last summer, or do I need to purchase a new bottle each year? Does it lose its strength?
Dermatologists recommend using sunscreen every day, not just during the summer. If you are using sunscreen every day and in the correct amount, a bottle should not last long. If you find a bottle of sunscreen that you have not used for some time, here are some guidelines you can follow:
The FDA requires that all sunscreens retain their original strength for at least three years.

Some sunscreens include an expiration date. If the expiration date has passed, throw out the sunscreen.

You also can look for visible signs that the sunscreen may no longer be good. Any obvious changes in the color or consistency of the product mean it's time to purchase a new bottle.