There are numerous ways of removing skin imperfections like wrinkles, pigment changes, fine scarring, acne, and sun damage. Microdermabrasion and chemical peels can both help treat your skin concerns. But how do you know which is right for you? When should you get a microdermabrasion verses a chemical peel?
Microdermabrasion
Microdermabrasion treatments start with a deep cleansing and gentle extractions. This treatment uses micro-crystals to painlessly remove the surface layer of skin to leave it softer, smoother and fresher. Six to eight sessions are usually suggested for optimal results. There is minimal redness of the skin after each treatment which usually subsides within about 30 to 60 minutes so there is little down time associated with this procedure.
Microdermabrasion is great for improving:
Clogged and large pores

Rough skin texture

Production and growth

Collagen

Uneven skin color

Sun and age spots

Dull or dry patches

Acne

Fine line and wrinkles
Chemical Peels
Chemical peels involve the application of an exfoliating solution to the skin in order to remove damaged outer layers and expose the soft, new and radiant underlying skin. At Silk Touch we offer several types of chemicals peels, all suited for various skin types and conditions. Read about them here. The downtime for a chemical peel is a little longer than for a micro but it is still minimal.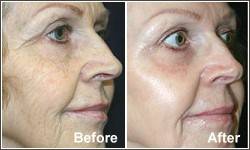 Chemical peels are great for improving:
Fine lines

Acne

Skin Discoloration

Increases moisture retention
Both treatments sound great, but which treatment is right for me?
Microdermabrasion and the lightest glycolic peels both make very subtle changes to the appearance of the skin. As part of a regimen of regular skin care, either will probably contribute to a fresh and rested appearance. However, peels using stronger concentrations of glycolic acid, or using one of the many other chemical peeling agents, will almost certainly make a more substantial difference in the look of skin than microdermabrasion does.
Every person considering facial resurfacing will have to balance the competing factors for themselves. Only an individual can know how much of a difference they would like to see in their face, and what they are willing to do to achieve it. If you want help deciding between a chemical peel and a facial, our staff at Silk Touch is here to help. Drop on by for a free consultation and we can give you a skin analysis go over the changes you would like to see and suggest the best treatment options for you personally.
To schedule an appointment click the link below or give us a call at 208-939-3110.