It seems easy to find tricks and tips for combating under-eye puffiness, but we know that some of you suffer from another issue: eyes that look sunken and hollow, especially for those who have more slender faces. However, there is help for those who may be genetically predisposed to hollow eyes or have lost soft tissue and bone density, which can make the eyes appear sunken.

Fix it with BellaFill:
At the first signs of hollowing, using a filler such as hyaluronic acid or fat can help to fill in the spots that appear in the tear troughs. Fillers like Bellafill (previously named ArteFill) are extremely effective in filling deficient areas under the eyes when it is injected deep into the tissue. BellaFill is different from temporary injectable wrinkle fillers. The unique microspheres in BellaFill are not absorbed by the body and provide the support your skin needs for natural, long lasting results.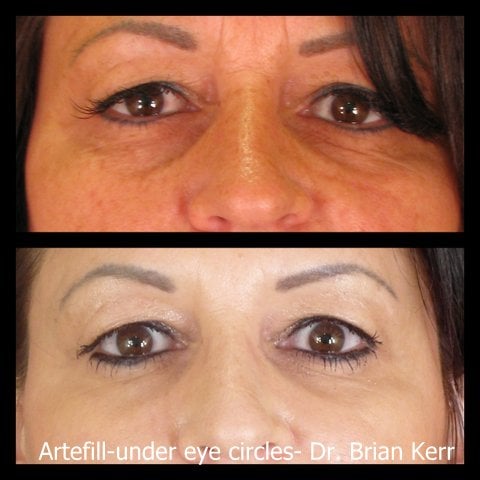 View More Before And After Pictures
With BellaFill injections:
treatments improve over the course of several months and stand the test of time.
has an excellent safety profile.
provides immediate results for wrinkle correction allowing you to return to your normal daily activities
BellaFill permanency requires precision skill in placement to assure patients get the results they want that look and feel completely natural. Dr.Brian Kerr of Silk Touch Med Spa and Laser Center of Boise has achieved the Diamond Elite status as providers of BellaFill. Diamond Elite signifies top providers in the nation. Only experienced injectors are invited to use BellaFill as it is significantly longer lasting than other fillers on the market, some results have lasted more than 5 years!
You deserve to look as young as you feel. If you are ready to fix your dark under eye problems for good, give us a call at 208-939-3110 to schedule a FREE consultation.
Dr. Kerr and Silk Touch have been named a National Training Facility by Suneva, the makers of BellaFill. If you are a physician or nurse interested in learning advanced injectable techniques, please contact our office. Training available 5 days a week. 208-939-3110.