Rosacea is a fairly common condition estimated to affect over 45 million people worldwide. This condition causes redness and flushing in the central face as well as across the cheeks, nose and forehead in people with light complexion.
Rosacea causes a range of symptoms that may include:
Redness,
Uncontrollable blushing
Swelling
Visible blood vessels
Bumps or pimple-like blemishes
Skin thickening and enlargement of the nose (mostly in men)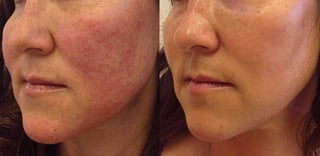 People who have Rosacea usually experience periods of flare-ups and periods of remission (the decrease or disappearance of symptoms). There is often a "butterfly" pattern that is detectable on the face. Although Rosacea is not life threatening, even mild symptoms can have a negative effect on quality of life. In recent surveys by the National Rosacea Society, nearly 70% of Rosacea patients said this condition had lowered their self-confidence and self-esteem, and 41% said it had caused them to avoid public contact or cancel social engagements.
Treating Rosacea
There is no cure, but medical care is available to treat this inflammatory disorder, and help you get your life back to normal. More difficult Acne Rosacea may be treated through PhotoDynamic Therapy.
There are multitudes of Rosacea "triggers". From food to stress, it is integral to your treatment success to learn your triggers and do what you can to avoid them.
Treatment combinations may include oral and topical medications, IPL Photo Rejuvenation treatments and Isolaz Acne Therapy treatment. Most Rosacea patients need combination therapies for the most effective results. Rosacea which is left untreated can cause irreversible skin thickening and disfigurement.
Any of the previous symptoms listed in the beginning of this article are a signal to make an appointment for a consultation with a Silk Touch aesthetician. Our aestheticians can make sure you are taking advantage of all of the procedures and products available to help your skin and insure that you aren't doing anything to worsen the condition.