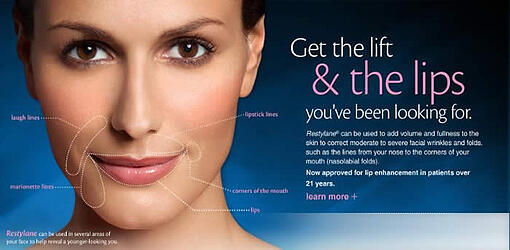 As we age, lines begin to develop at the corners of the nose and extend down toward the mouth and beyond, often giving the appearance that we are much older than we really are. Known as nasolabial folds or marionette lines, these medium-to-deep facial creases are primarily caused by a loss of facial fat and less elastic skin, coupled with sun exposure and genetics.
With a quick, simple in-office treatment, you can add volume and fullness to the skin to correct moderate to severe facial wrinkles and folds, taking years off of your appearance in less than 30 minutes.
Restylane works immediately by adding volume to smooth away wrinkles. A clear gel formulation of hyaluronic acid, Restylane is specifically formulated to act like your body's own hyaluronic acid, and eventually breaks down naturally.
This month only – when you buy one syringe of Restylane you get a 2nd syringe, ABSOLUTELY FREE. Click Here to Claim The Offer.