The Ultimate Facial Rejuvenation: Microneedling with PRP
Now more than ever, people are looking for ways to completely rejuvenate their skin without having to go under the knife. Popularly known as the Vampire Facelift, PRP treatments have become recognized for their ability to completely rejuvenate the face - resulting in tighter, refreshed and younger looking skin.
The combination of two cutting-edge new treatments, is getting incredible results and is even being used by many celebrities.
What is PRP (Platelet Rich Plasma)?
Platelet Rich Plasma (PRP) Therapy involves the use of blood plasma, enriched through a special process to increase the concentration of platelets. PRP treatments are performed by collecting blood from the patient and spinning it in a centrifuge to separate the platelets from the blood. This "platelet-rich plasma" is drawn out and can then be used via injection or micro-needling back into the patient.
While this may seem different, PRP has amazing skin care benefits.
The platelet-rich plasma is full of growth factors which can aid in the repair process of tissue, including the skin. It helps promote cell growth, tissue repair and the production of new collagen - which can decrease healing time.
What is Microneedling?
Microneedling, also known as collagen induction therapy, is performed with a small hand held device that makes tiny controlled micro-injuries or channels to the skin. This triggers body to produce new collagen and elastin within the dermis, as well as in new capillaries for improved blood supply. The results are improved skin texture and a reduced appearance of wrinkles, fine lines, texture/tone, stretch marks, and acne scars.
The Ultimate Duo – Microneedling + PRP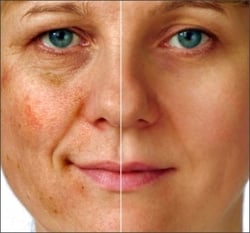 Combining these two treatments can take years off of the appearance of your skin! Clients are seeing some fantastic results with the topical application of PRP. During this treatment we utilize Microneedling to "stamp" the skin creating tiny channels along the surface. Then PRP is applied topically to the skin, allowing the full penetration of PRP deep down into the dermis and epidermis layers of the skin.
Since this procedure does not break down the epidermis the downtime is minimal. Your skin may appear slightly red (similar to a light sunburn) with some mild discomfort for a day or two after the procedure. This treatment can also be done on almost any part of the body including the face, neck & hands.
Interested in learning more? We invite you to request a FREE consultation to see if this treatment is right for you!