Silk Touch Med Spa is the first in Idaho to offer SculpSure™ – the world's first FDA-approved treatment for non-invasive, fast and easy fat reduction
Sculpsure is the the latest addition to our laser treatments. It is a non-invasive and easy way to melt the fat within your tissues so your body naturally removes it.With Sculpsure you can achieve up to 25% reduction in fat after just one treatment. 25% in just 25 minutes!
What is SculpSure™?

SculpSure™ is a hyperthermic laser fat removal system that works by directing laser energy into your treated areas. This laser energy heats the fat cells and surrounding tissues, thereby agitating the fat which causes them to release from your tissues. Over the next 12 weeks your body naturally removes the fat cells.
Why Choose SculpSure™?
Sculpsure is the latest technology in non invasive fat loss. Unlike other non surgical fat loss treatments that "freeze the fat" Sculpsure uses heat! It's not painful like other procedures and only requires one session.
Sculpsure Benefits
FDA-approved
25% Fat Reduction with One Treatment
Highly effective, quick treatments. Just 25 minutes!
Optimal results within 6-12 weeks after 1st treament
Can be used on the love handles, abdomen, upper arms, and thighs
Completely non-surgical and non-invasive. No anesthesia
Painless – most patients describe the treatments as feeling like a warming sensation.
Only requires one treatment (for larger areas and those wanting more than 25% reduction multiple treatments will be required)
No downtime; can return right back to work or other activities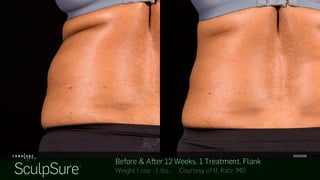 Learn more about SculpSure here and see more before and after pictures