Injectables and dermal fillers continue to gain popularity each year. Treatments are extremely effective and involve minimal downtime, making them the go-to non-surgical treatment for volume loss and wrinkle reduction. Earlier this year, Juvederm Voluma broke into the market for mid-face volume with results lasting up to two years. Which at the time was longer than any other injectable on the market.
Earlier this month Sunveva announced that BellaFill is now the only FDA approved dermal filler effective for up to 5 years. The study is the largest and longest dermal filler study ever conducted. It involved 1000 patients across the US. At the 5 year mark, no serious adverse events were reported and 83% of patient treated with BellaFill were still "satisfied" to "very satisfied" with their results.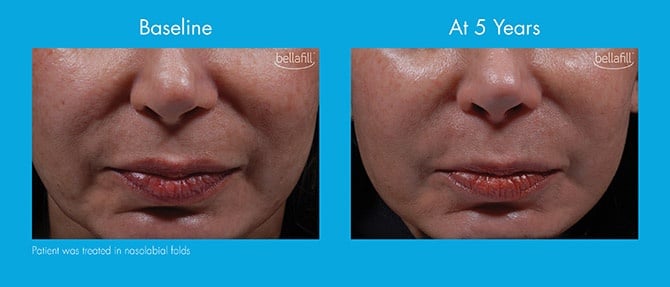 BellaFill works by replacing volume loss in the skin – either due to aging or even acne scarring. Just this year BellaFill was FDA approved in the treatment for acne scars and has become a favorite of both physcian's and patients.
The collagen in the product adds immediate volume while the microspheres remain in place – which increases the production of your own natural collagen. BellaFill is the longest lasting filler on the market – and unlike most dermal fillers, the results only continue to improve with time.
To learn more about what Bellafill can do for you, visit our Bellafill page or schedule a free consultation.