5 Laser Hair Removal Myths
Laser Hair Removal (LHR) has now become a common every day word. 20 years ago, back in 1999 when Silk Touch first introduced Laser Hair Removal, we were met with skepticism and disbelief. "You mean you can really get rid of hair permanently?"
The answer to that question is a resounding YES. Laser Hair Removal works. Thousands of clients have had the satisfaction of never having to shave again.
With that being said, there are some things we need to clear up. Here are 5 Myths about Laser Hair Removal:
Myth #1: Laser Hair Removal is completely permanent, FOREVER.
Answer: Yes and No. The FDA prohibits the advertisement of FDA-approved laser treatments to be described as a method of "permanent hair removal". Hence, use of the term "permanent hair reduction" is used to describe the procedure. In reality, many clients never have to shave again in certain areas of the body. I had LHR 12 years ago on my legs, bikini line and underarms. I DO not have to shave my underarms or bikini line, but there are finer blond leg left over from treatment years ago that I have to shave every few months.
Myth #2: All Hair types can be treated.
Answer: No, not as effectively as dark haired individuals. Today, most lasers target Melanin. Melanin gives colour to both hair and skin. Since the dark matter in hair follicles are the target, this procedure is best suited for dark haired individuals.
Myth #3: Laser Hair Removal is painless.
Answer: We all wish that were the case, but the fact is....even with lasers that add coolant or gel, it can be a little uncomfortable. Look for a doctor who provides a topical anesthetic in additon to the coolant that the laser provides. A machine called a Zimmer can help to cool the area and make this treatment much more comfortable.
We offer both numbing cream, and the Zimmer machine to make your treatment as comfortable as possible. Our most common comment from out patients "I was so surprised how much that DIDN'T hurt. You guys were fast!"
Myth #4: Once gone, my hair will never grow back.
Answer: For many, the hair never grows back. Hair on the face (especially for women) can grow back or be difficult to get rid of in the first place. Hormones, heredity and other factors can play a role in the permanent reduction of hair. Hair treated with the laser will often grow back lighter, finer, and more sparse. LHR treatments can delay growth. Many clients need maintenance treatments on their face every year or two to keep hair at bay. This can still be a much better option than the cost of waxing every few weeks.
Touch-ups if needed, are always offered at a much lower price.
Myth #5: Laser Hair Removal is expensive.
Answer: Compared to what? Shaving everyday? Buying new razors & shaving cream every month? Waxing? Over time, Laser Hair Removal is much more cost effective than other procedures. Your time alone is worth something. If you shaved 10 min. a day (that's pretty conservative) for 10 years you will have spent 304 hours shaving! And that doesn't count the cost of razors, shaving cream or the price of waxing. Treatments can start at $50 an area to several hundred for larger areas.
Just take a look at the infographic below to see how much you could save in a lifetime.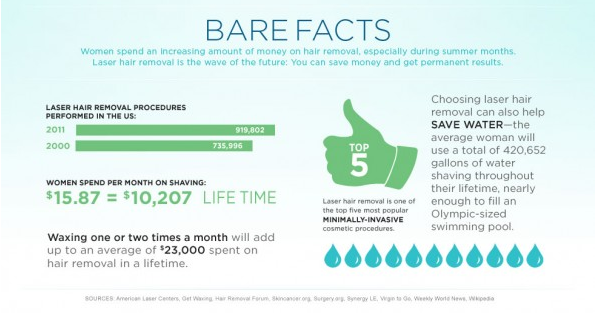 Right now save 50% on any Bikini or Underarm Laser Hair Package - Click for details!