Are your eyelashes thin or short? Do you get tempted to go spend lots of money on eyelash extensions? Well your quest is over. Recently SilkTouch MedSpa received the distinction of being Boise's ONLY Platinum Plus Provider of LATISSE® Lash Enhancement treatment.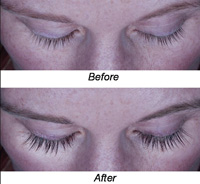 As a top seller of LATISSE®, we have the experience to be able to recommend this product with confidence. It is a rare client who can't use this product or see a difference in just a few weeks. Finally, you can grow darker, fuller, longer lashes than ever before with FDA approved LATISSE® Lash Enhancement for women and men who want lash growth.

Available in Boise and Eagle at Silk Touch Medspa and Laser Center, LATISSE® is a prescription for inadequate eyelash growth (hypotrichosis). It is used to grow longer lashes that are both darker and thicker. And some of us use it on our brows too!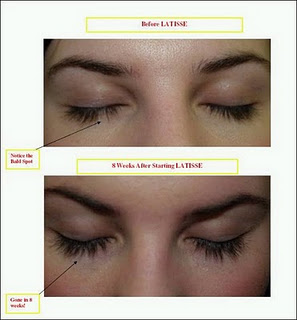 A quick and simple daily application to the base of the upper eyelashes is all you need to grow longer, more beautiful lashes. In just six to eight weeks, you can expect thicker lashes with full results in about 16 weeks. (Some of us have seen results as early as 2 weeks). You must continue to use LATISSE® to maintain the results.

If discontinued, lashes will gradually fall out and return to their original state. LATISSE® has been offered by Silk Touch Medspa for over a year with long lasting results. "Just ask any of our staff to show you their lashes", adds Dr. Kerr, "everyone without exception has achieved amazing results."

How long does it take for LATISSE® to work?

We are happy to take before and after pictures for you, but it's always a good idea to take one yourself. We'd love to feature you on our website! You should start to see results in as little as 2 weeks.

Wow 104.3 Country's own Alana Lynn, from the "Randy and Alana Show" in the morning came in for some LATISSE® and was very pleased with the results!


How do you apply LATISSE®?

1. Clean your face as usual and remove contact lenses.

2. Remove an applicator from its tray. Then tip the dropper over the brush. Don't squeeze too hard. You want just enough product to cover the lid above the lash line.

3. Draw the brush across the lash line, like you are putting on eyeliner. No need to apply it to the bottom lashes.

4. Enough applicators are supplied to do each eye separately. Although we must recommend proper and sterile use with the LATISSE® product, many of our customers report using one brush for both eyes and then throwing the applicator away. This way they don't lose as much product. Just FYI, this is not our recommendation.

How long will one bottle of LATISSE® last?

We've had many of our clients tell us that their bottle has lasted one to three months, but don't expect that the first month or two. You need to use the product religiously until your lashes are at their fullest length, thickness and darkness. Then, if you are happy with your lashes, you can start experimenting with cutting back a little bit. Some customers only use the product 3x a week and can keep their lashes long and beautiful.

Will your irises turn dark?

One of the reported side effects is that your irises will turn darker or change color if you have lighter eyes. We've been using LATISSE® for almost 2 years now and no one has reported this side effect yet. So, there is the possibility, but it is highly unlikely. One side effect that some of our customers notice is a bit of darkening of their eyelid skin just above the lash line. They counteract this with concealer. Most aren't willing to give up their long lashes for this bit of inconvenience.

What is the cost of LATISSE®?

LATISSE® retails for $120/bottle. We offer our customers a bigger discount when they buy 2. Your going to need 2 anyway! Call to ask for pricing. 208.939.8442

Can you use it on eyebrows?

Yes, you can! Some of our customers are seeing very nice results. Apply only to areas you want hair to grow in or you might get a mad scientist look!