Filler continues to be not only a popular treatment at Silk Touch, but one of the most popular treatments worldwide. With the increase in demand of this treatment, improvements are being made every year to make filler longer lasting, and approved for use in more areas. New improvements in filler include: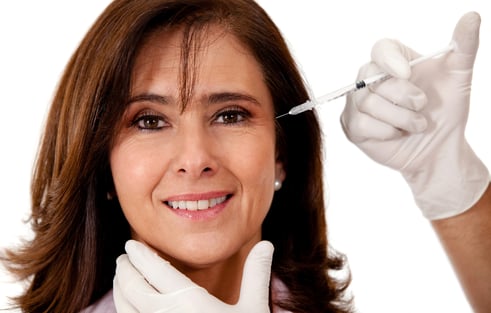 A recent FDA-approval of Juvederm Voluma use for the chin is the first time filler has been approved to be used on the face outside of cheek and lip areas. Chin enhancement using filler has been a popular treatment for years - and Voluma continues to be our go-to choice for this area.
Clinical trials are being done to ensure FDA approval for filler use on areas of the face such as the temples, the hollows below the eyes, and the jawline. While this is a very common off-label use, FDA approval allows for these companies to market it to patients.
The use of masks has made the demand for under-eye filler increase. People want their eyes to be a focal point and desire lower eyelid rejuvenation without the need for surgery. We love this quick treatment that can make a major difference in how refreshed you look. Check out our before and afters here.
A cleaner and purer family of fillers is being introduced to the United States. These volume enhancers have been available by Revanance in Europe for years. These fillers are called RHA 2, RHA 3, and RHA 4. Stay tuned for updates on this!
Restylane Kysse is a new filler that was recently approved for lips that doctors agree offers less swelling of the lips and gives a more pillowy feel. In fact, in a "Kissability Study" conducted by parent company Galderma, the majority of patients' partners reported a more kissable or natural feel. This filler has quickly become a favorite of our injectors and clients. Check out our Instagram for before and afters.
Long-lasting fillers, such as Radiesse and Sculptra Aesthetic, are more commonly being injected in innovative ways. Radiesse is being used to correct cellulite laxity and Sculptra Aesthetic is frequently being used to manage sun damage and skin texture.
The "microdroplet technique" is a new trend that can improve fine lines on the weakest areas of the face. This is done by injecting a thin dose of hyaluronic acid filler in different patterns of microdroplets under the skin. Doctors suggest that we will see overall improvement of skin quality with this technique.
Ready to give filler a try? Schedule your appointment today and our injectors will help you decide which filler is best to achieve your goals.