In the past 15 years, the muffin top went from most-loved breakfast part, to the most-maligned body part. We don't know how that happened, but we do know this: Most people want it gone, and classic crunches aren't working.
If you've exhausted your self with countless workouts that just aren't giving you the results you want. We have several body contouring services at Silk Touch that will help you say goodbye to unwanted love handles for good!
Smartlipo
For areas like the stomach and "muffin top"s that aren't responding to workouts, Smartlipo liposuction may be an excellent choice. Stubborn belly, flank, inner thigh, upper back, and arm fat may hang on long after you've made smart choices about nutrition and movement. We've had great success with a number of folks that simply wanted to focus on remaining trouble spots after adopting sustainable lifestyle changes. Check out our before and after photos below to see for yourself.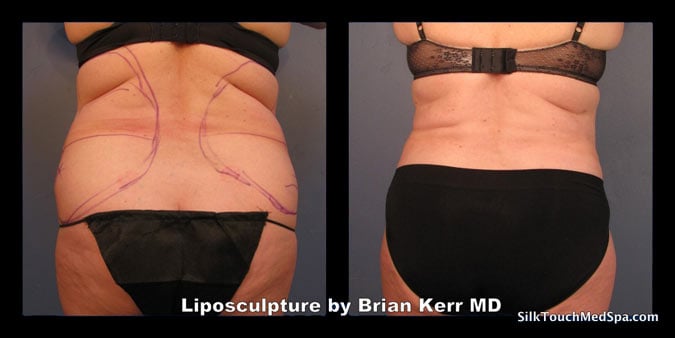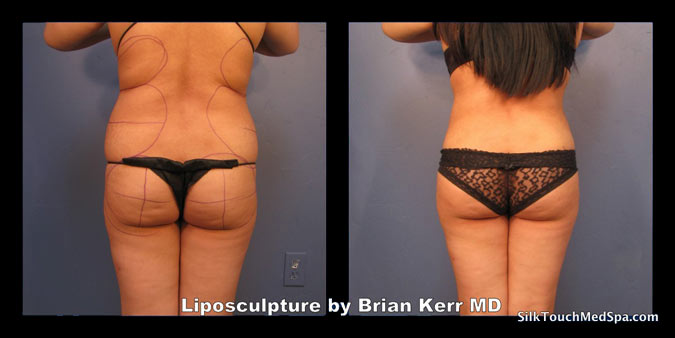 At Silk Touch Med, we do everything we can to make this simple and easy. We offer free, no pressure and no obligation consultations, convenient scheduling options, and a team dedicated to helping you meet your goals. Our technique allows you to have Smartlipo liposuction on your areas of concern, recover in the comfort of your own home, and get back to most of your regular activities, including work, in just a few days.
In the past few years, Dr. Kerr has become an expert in his field at body sculpting, and is now internationally recognized for his technique in sculpting the body – especially knees, ankles, and love handles.

Vaser Shape
Vaser Shape is a great alternative to Smartlipo for people who have a little bit of fat they would like to lose, and want to avoid having any down time. Vaser Shape is administered in 6-8 in-office sessions, and most clients start to see results after the first few treatments.
This painless treatment takes about an hour and feels like a hot stone massage. In fact, most of our clients fall asleep during the procedure it is so comfortable.
Unlike Smartlipo, Vaser Shape results are not instant – and it will take several treatments to achieve your desired results. However, for those who want to avoid having any type of surgical procedure (or have very little fat to lose) – Vaser Shape is a great alternative.
Scheudle a Consultation
If you are interested in learning more about how Smartlipo or Vaser Shape can help you with your body transformation, please schedule a no-obligation consultation. Or contact us with any questions.