If you are like me, it seems like no matter how hard I try and no matter what exercises I do, my inner thighs just don't change. Inner thighs are the hardest to slim down through diet and exercise alone. There are over 900,000 Internet hits for thigh exercises for women, proving that I am not alone in my goal for sexy legs. If like me, you have tried everything….let me introduce you to your new best friend – body sculpting with a combination of Smartlipo & Vaser.
Fat that accumulates on the thighs and hip area are some of the hardest to target. Genetics and gender are strong components in thigh fat, particularly the inner thighs. As we age, we burn fewer calories and the fat settling in our thighs is thicker, which can lead to a less-defined figure. Body Sculpting with Smartlipo and Vaser technologies can make thighs look leaner, and it may even make your butt look better too, due to a more proportionate result. Inner thigh body sculpting can significantly improve the silhouette of the thigh and reduce the rubbing together of the inner thighs.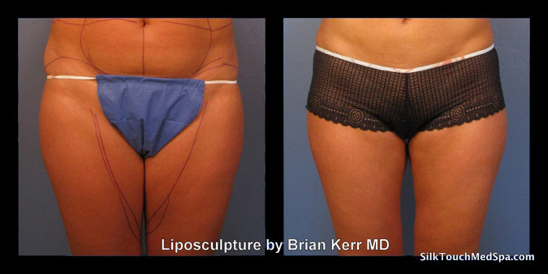 No matter what our body type is, all of us have difficulties trying to slim and lose weight in our thighs. Hourglass, apple, pear/spoon/bell, rectangle or straight, we could all use a little help trimming our thighs.
The way that Body Sculpting liposuction works on our thighs is the same as anywhere on our bodies. Smartlipo or laser lipo consists of a paperclip thin laser fiber which is inserted into a very tiny incision. The fat is melted by the laser and then is sucked out. Vaser uses vibration to separate the fat cells. Dr. Kerr uses this technology when fat transfer is needed for breast or butt since the fat cells are left. The incision is made in the groin or hip area and tightens the skin. Dr. Kerr is known for his amazing body sculpting techniques, as demonstrated in the picture above.
Smartlipo/Vaser is a gentle procedure that can be done in just a few hours depending on the number of areas to be treated. There is minimal pain, a quick recovery time and visible results almost immediately. Smartlipo has proven to be one of the safest cosmetic procedures.
Benefits of Smartlipo/ Vaser body sculpting vs. traditional liposuction:
Promotes tissue tightening through tissue coagulation

Performed under local anesthesia

Less bleeding and trauma

Quicker recovery

Dramatic results
Another benefit of Smartlipo/Vaser is that in most cases, more than one area can be treated at a tine. The picture shown above show's results from Dr. Brian Kerr of Silk Touch Med Spa Laser & Lipo of Boise using a combination of Smartlipo and/or Vaser liposuction on the thighs, abdomen and love handles, leaving the areas a lot more proportionate to one antoher.
If you are interested in learning how Dr. Brian Kerr can help you achieve the results you deserve. give us a call at 208-939-3110 to schedule you appointment or fill out our form by visitng the link below and one of our staff members will contact you.