Summer is right around the corner, which means it's officially shorts season. It's only May and we are already hitting temps of 90+, and with this heat – who wouldn't want to break out the shorts and mini skirts? Baring a lot of leg is fine for some, but for others with cellulite, saddlebags, varicose veins or troublesome unwanted hair, it causes a good amount of anxiety.
That's why we have rounded up the best procedures for getting sexy, lean legs in time for the summer heat! After these treatments, you wont ever want to cover your legs up.
Varicose Veins
Spider and varicose veins are really just enlarged veins, but many women find them to be extremely unsightly. With 50 percent of women in the United States suffering from them, they can be a result of genetics, pregnancy and/or hormonal changes. There are however a couple of options for treatment. Sclerotherapy, when a doctor injects the veins with a solution that irritates the lining of the veins, forcing them to collapse, is a popular and effective option. There are also lasers like Intense Pulsed Light (IPL), which work to reduce redness and the look of enlarged veins.
Learn more about Scelortherapy or IPL treatments.
Hairy Legs
If you hate to shave your legs or simply wish you just never had to deal with it, laser hair removal might be a good option for you. After just one session hair growth is stunted and after several sessions the hair grows back thinner and virtually invisible until you've completed all of your prescribed treatments. At Silk Touch, we sell packages in series of 6 treatments, though sometimes 2-3 additional treatments are needed for touch-up. It all depends on your hair type and how fast your hair grows.
Did you know you can save THOUSANDS of dollars on waxing and razors if you switch to laser hair removal? Now that's a big amount for anybody. Read more here on why lasers are the way to go for hair removal.
Cellulite/Loose Skin
If the term "cottage cheese thighs" hits a bit too close to home, then you might want to consider a skin-tightening and body shaping treatment for cellulite-free legs. While diet and exercise are your best bet for fighting unwanted dimples, for those that can't get rid of rippling, there are some in-office procedures that might help. A combination of laser, vacuum, massage and/or radio-frequency devices may help to smooth out cellulite in problem areas.
Sometimes when we do lose a lot of weight, or as we age, we start to get "saggy" skin on our thighs that increase the appearance of cellutlite. Venus Freeze is the go-to treatment for those looking to tighten and firm areas of the body.
Our new Venus Freeze treatments use radio-frequency to tighten the skin and reduce the appearance of cellulite. Check out the before and after photo below.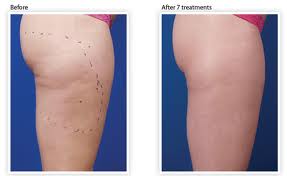 Ready to start your leg transformation? Schedule a complimentary consultation with one of our patient care coordinators to see what treatment plan is right for you. Call us at 939-3110 or schedule and appointment below.