Are you wanting to get a breast augmentation? The first step is scheduling your consultation. Your consultation is important to be able to help you and the doctor get on the same page with your goals as well as discuss the options you have with the surgery. Below are some things you can do prior to your consultation to help you come more prepared.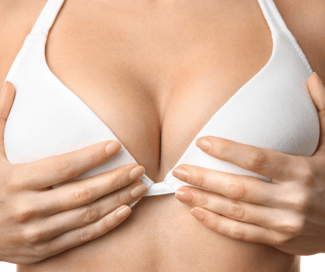 Learn about the different implant options
Everyone has different goals for their breast size and appearance which makes it important to offer different options for breast implants. Implants differ in size, shape, texture and material. Though we do not offer textured implants, we do use smooth implants that are either silicone or saline.
Know your goal breast size
Before coming in for your consultation you should have a general idea of what breast size you are wanting. Finding pictures of what you want as reference may be beneficial to you. Standard breast sizing in retail goes by cup size (a, b, c, d, etc.) however, implant size is measured in cubic centimeters, or cc's. It is important that you wear/bring a sports bra and light colored shirt to your consultation. In order to determine the right breast size for you, you will need to try on breast sizers. A regular bra is not ideal to try on the sizers and a light shirt makes them easier to see when testing them out.
Make a list of questions you may have for the doctor
Having a list of questions prepared ahead of time can help you make sure you get all of the information you need to make a decision. For ideas on what to ask, check out our blog "10 Questions to ask during your cosmetic surgery consultation."
Do your research on the procedure
During your consultation an explanation of the procedure will be given, but it is important to have a general knowledge before your consultation. Different things the doctor will consider include types of implants, if a breast lift is needed with the augmentation, if a breast reduction is needed, nipple placement, incision site and more. An information packet is given to the patient to take home after the consultation that reiterates what was previously discussed, as well as gives some details on pre- and post-op care.
Other things to note
When you come in for your consultation with Dr. Nealy you can expect him to perform a full breast assessment for measurements and to ensure the health of the tissue inside the breast. This is done with a female assistant present in the room to ensure safety of both the patient and the doctor.
After your assessment you can be given quotes for the different options discussed in the consultation. If a patient is interested in talking about scheduling or payment options at the time of the consultation, that can be done. However, patients are always allowed their time to think things over and decide at a later date. Quotes are generally good for one year as long as the health history of the patient has not changed.
If you are ready to start your breast transformation call us at 208-939-3110 or visit our website to book your complimentary consultation.
Related Blog Posts: