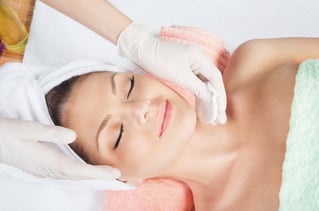 Chemical peels are quick in-office treatments that can help with a wide variety of skin concerns. They have remained a favorite because they can resurface and refresh the skin by diminishing the appearance of fine lines, wrinkles, sun damage, enlarged pores, hyperpigmentation and acne scars.
Peels range from light, to medium or deep. Lighter peels are generally recommended in a series of at least six, while a deeper peel may be a one-time treatment. You may be able to return to your regular activities immediately after a light peel, deeper peels may require more downtime.
What to Expect
While some patients never actually peel, others can expect several days to weeks of noticeable skin peeling, depending on the type and strength of peel and your skin type. After a peel you will look fresh and radiant. With more aggressive peels, you may look pink to red, but that is temporary and goes away within a few days to weeks. Skin should appear tighter, fresher and more even toned.
Most people can start to wear makeup the next day.
Downtime
The amount of downtime involved with a peel depends on the type of peel. Lighter peels can have very little to no downtime at all – with only light flaking, if any. Medium to Deep peels can have from 2-3 days, to 2-weeks downtime, depending on the peel and your skin type.
Post-Care Tips
Before your peel, an aesthetician will use VISIA skin analysis to develop a custom skin care plan based on your results. The VISIA will help determine the correct chemical peel treatment and post-care regimen.
Immediately following your peel avoid direct sun exposure as much as possible. After a chemical peel it is important apply a moisturizer with sunscreen every morning with at least an SPF of 30 – although you should be doing this every day regardless!