Mircrodermabrasion is a popular treatment and a favorite of our clients here at Silk Touch Med Spa and Laser Center. But even with so many people raving about their latest micro session, not everyone knows exactly what a microdermabrasion is, how it works, or the numerous ways that micros can improve your skin.
How does Microdermabrasion work?
One of the questions we receive most often is, how exactly does microdermabrasion work?
Microdermabrasion works in two ways. It works by gently exfoliating or removing the outside layers (stratum corneum) of the skin. The abrasive action of the wand gently removes the outer surface layers, allowing smoother, fresher skin to be apparent. The second way is that the vacuum action helps to stimulate microcirculation and lymphatic flow, increasing the blood supply that provides nutrients needed for skin regeneration. This helps accelerate the skins repair process and stimulates the formation of new collagen and elastin thereby improving skin texture and elasticity.
Minute aluminum oxide crystals are delivered in a controlled fashion to the top layer of the skin. The crystals are then vacuumed off, taking away dead skin cells. Some studies report that there is an increased production of collagen in the skin that helps the skin look youthful again. As well helping the face look plump and youthful.
The principle behind Microdermabrasion is the idea that if you remove the stratum corneum, the body interprets this as a mild injury and rushes to replace the lost skin cells with new, healthy ones. This process has many beneficial effects. With the stratum corneum gone, the skin's surface is improved. The healing process brings with it newer skin cells that look and feel smoother. Some of the skin's visible imperfections, like sun damage, blemishes and fine lines, are removed. Also, without the stratum corneum acting as a barrier, treatment creams and serums are more effective because more of their active ingredients and moisture can find their way down to the lower layers of skin.
How do I know if I'm a good candidate for Microdermabrasion?
You are a good candidate for microdermabrasion if you are a healthy adult who has relatively minor skin conditions or imperfections like: superficial acne scars, brown sun spots, sun damage, large pores, and fine wrinkles, and realistic expectations about what microdermabrasion can and cannot do
Microdermabrasion is not recommended for people who have, deep scars, active keloids, undiagnosed lesions, warts on the face, active acne, an autoimmune system disorder or unstable diabetes. Pregnant women should not undergo microdermabrasion.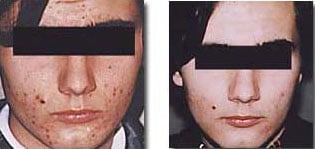 Microdermabrasion works great for those who want to improve:
Clogged pores including blackheads & whiteheads.

Large Pores

Rough skin texture

Production and growth of healthy new cells

Collagen

Uneven skin color

Sun & Age spots

Dull or dry patches.

Acne and Acne Scarring

Fine Lines and Wrinkles
What can I expect during a microdermabrasion treatment?
At Silk Touch Med Spa and Laser Center of Boise, Microdermabrasion begins with an application of cleansing gel to your skin. Next, we use a hand-held device to sandblast the aluminum oxide onto your skin. The device also sucks up the dead skin cells at the same time. The wand is waved across your entire face so the skin's texture and color will remain consistent. Finally, a trained staff member will apply a sun blocking cream to your face. This allows you to resume your daily routine right after the treatment.
Most people who undergo microdermabrasion experience little to no discomfort with the treatment. In fact, it can be extremely relaxing!
What can I expect after my treatment?
Expect a little pinkness of the face for a few hours after treatment. This tends to fade quickly.
Use moisturizer for 4-6 days after microdermabrasion to avoid excessive peeling.
Don't forget to use sunscreen every time you go out (even if it's an overcast day) because microdermabrasion increases photosensitivity.
Avoid heavy makeup for a day.
Our clients have had nothing but positive remarks to say about their experience with microdermabrasion.
"I enjoy having this treatment done, it leaves my skin feeling smooth with a more even tone, I tend to do microdermabrasions every two weeks to maintain and help treat my skin. We all know as we age our skin starts to look more dull and tired, I feel that with the help of a microderm and my at home products my skin is much more healthy and vibrant. To me this treatment with a light peel is a necessity to my fight against aging."
With all the holiday parties coming up, what better way to make an entrance then with beautiful rejuvenated, younger looking skin? Or show a little love to that special someone and give him or her the gift of younger looking skin. Call us at 208-939-3110 or request an appointment online. We can't wait to have you in!
Interested in learning more about Microdermabrasion? Click here to see a listing of all our blogs on microdermabrasion.