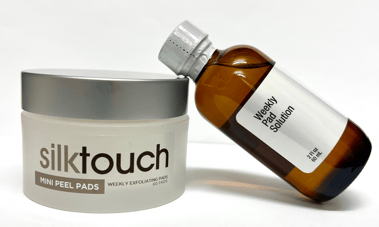 Did you know that here at Silk Touch Cosmetic Surgery & Medspa we have our very own medical-grade skin care line? Our products are specifically designed with our patients in mind. This month, we are offering 15% off of our SilkTouch Rx Mini Peel Pads. These pads are perfect for giving your skin a weekly refresh!
This product helps with:
Killing acne causing bacteria

Minimizing pore size

Improving texture

Exfoliating the skin
How To Use:
Apply to clean skin
Leave on for 15-30 minutes
Wash off with gentle cleanser
Follow with nightly routine
*Use one pad once a week for best results.
Why Use Medical-Grade Skincare?
Medical-grade skincare products may not be as inexpensive or as easily accessible as skincare products offered in drugstores, but the benefits are worth it! These products contain purer and more effective ingredients, are a higher quality and help target specific medical skin care needs such as acne, fine lines or wrinkles.
To claim your special and try out our Mini Peel Pads, give us a call at 208-939-3110 or fill out the form here. We also recommend scheduling a VISIA Skin Analysis with one of our medical aestheticians so they can help create a skincare regimen that is personalized for you.
Posts You May Like: