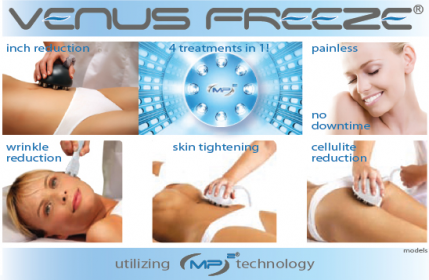 Radiofrequency and ultrasound have long been used in the world of aesthetics to treat skin issues from laxity to cellulite, however, with each new year it seems there is a new machine promising better results and less discomfort.
The machine that Dr. Kerr and our aestheticians are specifically excited about is the Venus Freeze Treatment. It's probably one of the more popular non-invasive firming and lifting treatments that we have seen in this office in a long time.
So how does it work? It's a hand-held device that uses radio-wave energy to heat the skin, which causes the tissue being treated to contract and firm, while magnets stimulate new collagen and elastin for long term benefits.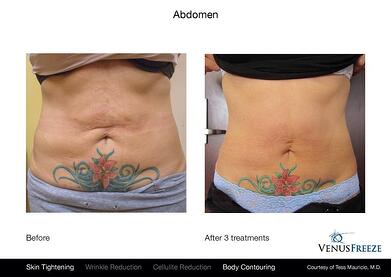 The best part is, this particular machine works on all body parts from the face, to the belly and thighs, to lift and firm saggy skin. It only takes about half an hour for each area. Benefits can't be seen immediately after the first treatment dues to temporary swelling of the skin, but when done in two to four week intervals, full results can be seen.
The treatment, which feels more like a hot stone massage than a cosmetic procedure, requires no healing or recovery time and after the first treatment, the skin looks pink and radiant.
While this treatment can be done to tighten and firm the skin of anyone from the age of 18 to 80, it's full effectiveness is best seen on patients in their early 30s to mid-40s since the skin at that age is better prone to tightening. One benefit to doing these [radiofrequency] treatments at an earlier age is that you'll see more of a reward sooner.
Are you ready to try Venus Freeze and see the results for yourself?