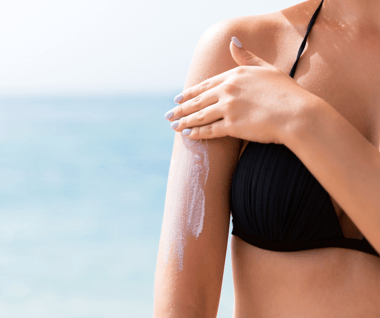 We're sure you've heard it hundreds of times, but wearing sunscreen every day is so important for the health of your skin. Have you ever stopped and wondered why? We are here to give you the inside scoop. Below are 4 reasons why sunscreen should be part of your daily skincare routine.
The sun's ultraviolet (UV) rays can be extremely damaging to your skin. Increased exposure to both UVA and UVB rays is what damages skin cells. Sunscreen, when reapplied throughout the day, acts as a barrier against those harmful rays.
Reduces the Risk of Skin Cancer
A common cause of skin cancer is exposure to UV rays. It is recommended that you wear a minimum of SPF 15 daily, apply about 30 minutes before going outside, and reapply every two hours during exposure to the sun.
Keeps Skin Looking Youthful
Exposure to the UV rays can also cause wrinkles, sun spots, and leathery skin. These signs of sun damage can give the appearance of premature aging. Those who consistently wear sunscreen can prevent this and help maintain more youthful looking skin.
Helps Maintain a More Even Skin Tone
UV rays can cause hyperpigmentation, discoloration, and a change in skin texture. By using sunscreen you are preventing this and maintaining a more even skin tone.
You may think that sunscreen is only for the warmer months, but UV radiation still reaches the Earth on cloudy or colder days. With this in mind, it is important to wear sunscreen year round for the best protection.
Start giving your skin the love and care it needs by booking a complementary VISIA Skin Analysis with one of our medical aestheticians. They will be able to help provide recommendations to skincare treatments and products, including sunscreen, that will best help you accomplish your skin goals. Call us at 208-939-3110 to book yours today!
Related Blog Posts: