You're ready to take the next step in getting that perfect, but natural looking pout. (Or maybe you're wanting a big, full Kardashian pout that causes some serious #instaenvy, we totally love that look that too. ) Regardless of the end look you're going for - it's important to visit an experience and licensed injector that uses the correct amount and type of filler on your lips.
What fillers are used for lip injections? Check out the best lip injection fillers below.
Juvederm XC & Restylane
When it comes to lip injection fillers, Juvederm & Restylane are the top choices of our clients and injectors. They both can be used to create full or subtle pouts and have enough structure they can be used to lift & reshape the lips. Restylane and Juvederm are both hyaluronic acid-based fillers. The main differences between the products have to do with how they are used to achieve specific benefits for the lips. Traditional Restylane has a higher G prime than Juvederm. What this means is that Restylane has a higher level of stiffness to the gel that is injected. This tends to cause theproduct to hold form and stay in place slightly better, while imparting a greater capacity to lift the area. Juvederm in comparison, has a lower G prime, which means that it tends to be softer and spread more than Restylane when injected into the body. Our expert injectors will choose the product that is right for your goals and lips.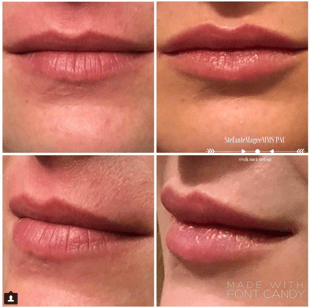 Restylane Silk
Restylane Silk is amazing for lip injections! Especially those looking for a defined, more subtle look. Restylane Silk is FDA indicated for lips and is a very natural, soft feeling injection great for reshaping the lips and adding volume.
Vollbella
Volbella is one of the newest fillers from Allergan, makers of Botox and Juvederm. Vollbella is one of the best fillers on the market for making the lips fuller while also diminishing the fine lines and wrinkles on and around the lips.
Lip Injections at Silk Touch - Boise
At Silk Touch, our expert injectors offer complimentary lip injection consultations. During your consultation they will go over your goals (its ok to bring a picture of the look your going for), will discuss your budget, as well as do a complete facial analysis to make sure they tailor their injection technique and placement to make sure your lips are symmetrical and complimentary to your face shape.
Ready to get started? Save $100 on your lip injections here!