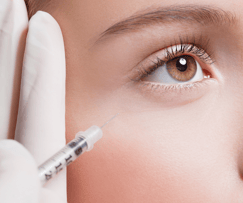 Are you tired of looking tired? Dark circles or tired looking eyes can be frustrating for anyone. Especially when you feel well rested and can't seem to get them to go away. There can be a variety of causes for tired looking under eyes such as stress, genetic predisposition, fat loss, or aging. If you are looking for a non-invasive solution, then tear trough filler might be for you. For individuals interested in under eye filler, here are 5 things you need to know before your treatment:
Does filler get rid of dark circles?

Under eye filler can help with the appearance of dark circles, but won't get rid of them. The purpose of filler is to increase volume in areas Filler can improve appearance but wont get rid of dark circles. It's more for hollowness.

What can I expect from the treatment?



Before dermal fillers are injected, the skin is disinfected and a topical anesthetic is applied to help with pain management. Next, using a cannula, a syringe of filler is injected beneath the under eye skin. The cannula is slowly removed while the filler is injected, and the treated area is lightly massaged to spread the filler.

Are under eye fillers safe? Are there side effects?

Under eye fillers are considered safe, especially in comparison to the alternative treatment—surgery. Fillers are minimally invasive and have little to no downtime. Side effects include:


Bruising
Swelling
Itching



How long do under eye fillers last?

The under eye fillers we use are approved by the FDA for 18+ months, but patients typically see them last 9-12 months.

Who is a candidate for under eye fillers?

If you experience any of the following you may be a good candidate for under eye filler or tear trough correction:

Have hollowness/loss off volume

under

the

eyes

Have dark circles, bags or shadows

Have healthy, elastic skin

Have good skin thickness
With one quick treatment, our expert injectors can improve the under eye area and help you achieve the transformation you are after! We utilize the best dermal fillers on the market to help treat patients of all ages. Ready to take the next step? Give us a call at 208-939-3110 or visit us online to schedule a consultation.
Related Blog Posts: