Struggling with acne can be frustrating no matter what your age. Medication is often a solution to treat acne, but it doesn't have to be the only one. At Silk Touch Cosmetic Surgery & Medspa, we offer a variety of treatments with our medical aestheticians that can help reduce the appearance of acne and get you the skin you've always wanted.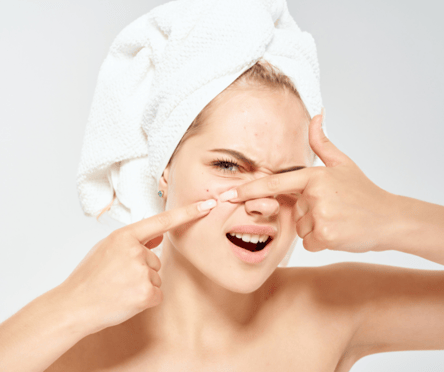 At Silk Touch we offer LED, RED, and BLUE light therapies. These treatments have the ability to reduce moderate to severe acne, and have even shown up to 80% clearance rates in clinical studies when used in combination. Light therapy, simply put, is the application of light energy to the skin for therapeutic benefits. When these light therapies are done in combination, they can increase collagen production, accelerate the repair and replenishment of damaged skin cells, neutralize acne causing bacteria, reduce inflammation, and so much more.
This treatment is non-invasive, has no downtime, and is painless. No matter your age or skin type, this treatment can be safe and beneficial for you.
Acne Photo Dynamic Therapy, or PDT, is a skin treatment that can be highly effective in treating moderate to severe acne. How PDT works is Levulan®, which is a clear solution of 20% Aminolevulinic Acid, is applied to the skin 30 minutes to several hours before the treatment. During this time, the solution is absorbed into active cells, like acne sebaceous glands, which makes the targeted acne cells more sensitive to the light. The Levulan® is activated by non-UV light in the blue spectrum which in return destroys acne and leaves you with smoother skin. This treatment has made it possible for patients to stop the use of medications such as Accutane® in many cases.
Chemical peels have been shown to reduce the formation of acne and improve skin texture. We offer a variety of chemical peels that can help in the treatment of acne. To learn more read our blog post on chemical peels here.
Say goodbye to your acne and hello to clear, beautiful skin by trying one of our acne treatments at Silk Touch. For more information on which treatment is best for you, call us at 208-939-3110 to book an appointment and a VISIA Skin Analysis with one of our aestheticians.