We thought this recent Article from Aesthetic Dermatology was interesting and wanted to share! What are your thoughts?
Cryolipolysis leads surge in body sculpting
The increasing popularity of treatments such as cryolipolysis and deoxycholic acid (Kybella) led to a tripling in the number of body sculpting procedures during 2012-2017, according to a survey from the American Society for Dermatologic Surgery.
A total of 434,000 body sculpting procedures were performed by ASDS members in 2017, compared with 146,000 in 2012, the ASDS reported based on data from 667 survey respondents, which were generalized to the society's membership of over 6,400 physicians.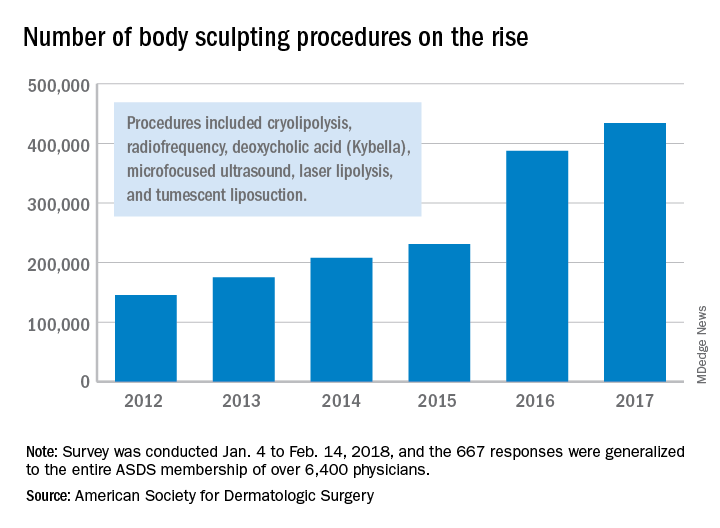 Cryolipolysis represented the largest share of body sculpting treatments in 2017, with over 208,000 procedures performed – an increase of 77% over 2016. Radio-frequency procedures were next with almost 90,000 performed, followed by

deoxycholic acid

with 46,000 procedures, microfocused ultrasound with 32,000, and laser lipolysis with 25,000, the ASDS said.

"An increase in media coverage and in celebrities acknowledging their procedures are growing awareness among the general public and improving the comfort level of diverse audiences to explore treatments," ASDS president Lisa Donofrio, MD, said in a written statement. The survey was conducted from Jan. 4 to Feb. 14, 2018.