---
TOP 3 TREATMENTS FOR SUMMER
To help your summer skin glow and to get beach-body ready we recommend any of these popular treatments. These are our most -requested treatments this summer and why we (and clients) love them!
---
1. Botox and Dysport

If you've never had a Botox or Dysport treatment before, chances are you know at least one person who has. They are both neurotoxins that quickly treat fine lines and wrinkles.
Popular areas include: forehead, crowsfeet, and the 11's (frown lines between eyebrows).
This is one of our most-requested treatments and clients are thrilled with results they get with Dr.Kerr and Autumn our PA. In fact, we perform more Botox treatments than any one in the Treasure Valley and were recently awarded the Black Diamond Provider Recognition. This recognition is given only to the top 1% of Botox providers in the nation.
2. Microneedling Treatments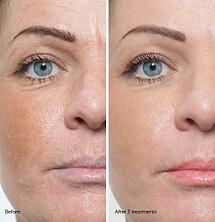 Microneedling is a great way to rejuvenate your skin in the summer because it doesn't use any lasers, works on tan skin and the downtime is completely adjustable by the technician. Microneedling using multiple microscopic needles to penetrate the surface layers of the skin, which tightens lifts and rejuvenates by naturally stimulating collagen production.
Microneedling Helps Treat:
Fine lines and moderate wrinkles
Uneven texture, tone & color
Stretch Marks
Acne Scars
Traumatic and surgical scars
Photo aging
Mild to moderate skin laxity
No laser heat is introduced. So unlike fractional laser treatments, IPL, and laser resurfacing, there is minimal downtime, minimal discomfort, and an almost immediate outcome.
Check out our current Microneedling special offers >
3. Venus Freeze Skin Tightening
Venus Freeze is the ULTIMATE SUMMER TREATMENT! Seriously, we can't get enough of this treatment and either can our clients! Venus Freeze is a skin tightening treatment that uses radio frequency technology to tighten the skin anywhere on the body or face. It can even help with cellulite!
Venus treatments are 20-40 minutes depending on the area. Venus Freeze treatments have absolutely no downtime and quick results. It's a painless treatment that many patients compare to a hot stone massage. You can head to the Boise River or up to Lucky Peak to show off right after your treatment.
This treatment is so popular at our spa, we had to buy a second machine just to keep up!
Ready to try it for yourself? Get your first treatment for just $99 here >
---
These are just a few of our most popular summer treatments. We hope you enjoyed! For more information on treatments visit our full-website here.
Let us know what you think or ask us a question in the comment section below.
---